Victorian 24 Hour Championship
by Phil Essam
August 1998

I had been training well for the past eight months and I was ready to hit the Coburg 24 hour race. My mindset was to pass 120km. I even went as far to put 120km on my Computer Screensaver at work and home. That's motivation!
The car was packed and we left Adelaide in the wee,small hours of Thursday morning. Yes, I'm now living in Adelaide! It was a relatively uneventful trip and we got to Melbourne early afternoon. We put our young daughter on the aircraft that night and went back to our friend's house in Williamstown.
On Friday we found our way to Coburg and the butterflies started to kick in. My wife (Belinda) and I picked a position for the tent and set up. We also met up with Shirley and Ron Young who set up their tent next to us.
Saturday came around and we were back at the track by 0930 in the morning.
There were 12 competitors for the Ultra Race and 4 teams in the relay race. The battle for individual honors appeared to be a tussle between Helen Stangar and Andrew Lucas, but Andrew had burnt his feet in an unfortunate accident just prior to the race.
The race also included a few Veterans. These were Cliff Young, Shirley Young, Peter Waddell and Ken Matchett. All experienced campaigners!
The other runners were Ex-Westfield runners, Peter Gray, Kevin Mansell(friend and mentor) and Bob Fickel, who was running his first Ultra in a few years. The other two runners were Bill ( chicken legs) Hicks and Gosford Walker, Frank Overton. It was good to renew old friendships and make new ones. This is the third Ultra that I have been in and it always amazes Belinda and I the community and family spirit that abounds at any Ultra. This was to be no exception.
Race time came around. The opening of the new track was completed. It was down to the last minute and the usual witty repertoire was abounding. Peter Waddell made a comment about the best man coming 12th and myself wandered if the Starter's gun was going to shoot us all; to which Kevin suggested that I probably would want to be shot in 12 hours time.
The gun went off and we were off and running or walking. I started off at my usual 3 laps running and 5 laps walking. I went through the marathon in 5h33m and the 50km at 6h45m. This was a new Personal Best for me and things were looking pretty good.
It's at this point I must mention Belinda. We have been married for seven years and looks after me excellently in the Ultras. Comments were passed about our gentle flirting during the race, but it helps to keep us both sane. Belinda knows what to say and when to say it. As Bev Carr said "She's Ace!".
The race continued and I fell into a trough for a couple of hours until Belinda said "Its up to you" and gave me the walkman with Blues Brothers( John Breit in the Westfield days) in it. That did the trick and I had a new personal best of 77.8km at the 12 hour mark. I then pushed on and set a new 50 mile personal best of 12 hours and 48 minutes. It was going great!
It was shortly after one o clock when I went ballistic for three laps and ran past everyone in the field at least once. I think Bill Hicks asked my wife what I was on! It was a combination of a couple of readily available energy drinks, which seemed to do the trick!
The clock kept turning over and I was soon back to my old plodding self. It was fun whilst it lasted! It was shortly after 5 in the morning when I set a new PB for myself in the 100km. Beating my Personal bests was definately helping my motivation.
It was at 5.30 that I had a great massage from Mike. Mike, I'm using you when I make the Colac Race. Belinda and I were both sceptical of having a massage after the fainting episode of last year, but this one worked and I was soon back on the track.
The greatest sight to an Ultra runner is the sun coming up and this year was no exception! It was at 21 hours and 35 minutes when I beat my previous 24 hour mark of 115.2km, even though I was beating up on myself and thinking that I shouldn't be in the field if I can't get 120km. I was soon straightened out on that one!
The laps kept ticking over and I knew that I would reach my goal of 120km. It was shortly before eleven o clock when my main goal was reached. I was over the moon, in tears and emotionally drained all at the same time..
I made it! - 120km in 24hrs)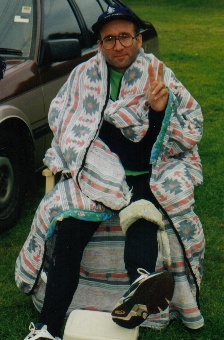 After a hug from Belinda I sat down for ten minutes before plodding around for the last hour. I was spent and just wandered for the rest.
It was at 23.55.46 when I did my last lap. I was ready to hang around the Clubrooms for the gun, when Bob Fickel came up to me and pointed me in the right direction. I was off and in a run. The gun went off and I had completed 122.6km.
My elation was short lived though as I looked over and saw that Shirley Young had collapsed on the ground. Shirley had just completed 100 miles. This must go down as the gustiest performance of 98. after being reassured that she was OK, my wife and friend, Craig were at my side to congratulate me. It was great!
Nine runners had completed the 24 hours. It was sad that three pulled out through injury or other reasons. I'm surprised though, not more pulled out with the disgusting weather we had in the first six hours. I will always remember the sight of following Cliff into the bend during the gale and seeing him leaning at 125 degrees into the wind. Hicky and I also had a bitch about Melbourne weather at the same time.
Helen Stangar was great in winning the race with a new Australian record of 228km. She had a great battle with Andrew Lucas in the first half of the race until Andrew's legs started to suffer. Cliffy got a great 140km plus. Kevin also chatted to me a few times during the race and helped me to get my goal. He also offered his services when I decide to do Colac! All of my fellow runners were great as we pushed towards the 24 hour mark.
This race was another great example of the spirit that exists in the Ultra community. All the crews helped each other during the race and lifted the other runners.
Thanks to the Coburg Harriers once again for putting on a great event. The lap scorers were great. Kevin Cassidy and Bev Carr also deserve a special thanks. Kev was acting as track side marshall and Bev , I think was being my crew member at the other end of the ground for a few hours. Bev, you helped to make a good event a great event. Coburg Harriers: next year you must have Portaloos ( even if you have to put the price up). Walking off to the clubrooms did get a bit difficult!
I've now completed three 24 hour events and improved in ever yone. Due to cost I may stick to races in SA in 99, but there are a couple of Ultras in SA and I know that I will keep improving. Ultra Running is part of my journey in life!
Phil Essam






Adelaide 






Australia 
Web site created by Phil Essam. For more information phone Phil on 0407830263