* Not sure how this web site will develop. Have received some great photos which will go on. I would also like to fully update the race record I have for Cliff and then get individual race stories. I will pass information on about how Cliff's memory is going to live on.



Australian Ultra Running Legend, Cliff Young passed away at 5.20pm this afternoon(2nd November 03) after a long illness. He was 81.
Instead of flowers for the Funeral Service it is asked that people send a cheque or money order to Waterbird Rescue c/o The Powers Twins P O Box 372 Golden Beach QLD 4551. The Twins and Cliff have been working for Waterbird Rescue for a number of years on a voluntary basis and this would be a great way to remember Cliff.
There was a Service held at Caloundra this Wednesday 5th Nov at 1030am for Cliff. Spoke with Helen this evening (5th Nov). Apparently the Service was beautiful. There were about 80 people there, 4 people spoke, there were some songs and tea,coffee and biscuits afterwards. As we all know Cliff wouldn't have liked a fuss.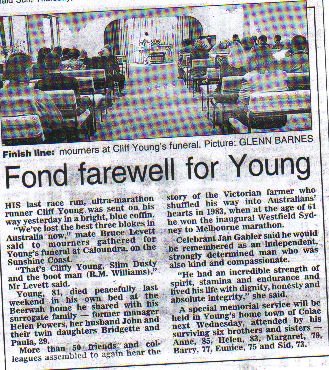 There was a Memorial Service held for Cliff on 12 Nov 03 at the Colac Bowling Club in Colac. There were close to 400 people in attendance that included family and Cliff's friends from Colac and the ultra running community. It was a wonderful occasion with all aspects of Cliff's life being remembered. This included Cliff the runner, Cliff the Bushman and Environmentalist and Cliff the Family Man. There were a number of speakers who spoke on different aspects of Cliff's life. A highlight for me was listening to Cliff's brother, Syd singing a solo part of "I am a Small part of the World" as part of the Lavers Hill Choir. I don't think Colac, his family or Ultrarunning will let the world forget about the spirit of Cliff in a hurry. His spirit will live on.
Copy of Programme - page 1, Copy of Programme - page 2, Copy of Programme - page 3, Copy of Programme - page 4.
I would also like to personally thank 3AK Radio station in Melbourne for providing a copy of Cliff's song that was played at the Service. They had it couriered from Sydney on the day of the Service. That was nice.
President of the Australian 6-day race, Bill Sutcliffe announced last night that Memorial Square at Colac will be renamed the "Cliff Young Running Track" for the duration of the 6-day race from the 16th to 22nd Nov 03. For further details go to www.colac.ultraoz.com. He also announced that the 6-day race committee is commencing a push to get the race renamed the "Cliff Young Australian 6-day Race". This I'm absolutely wrapped about.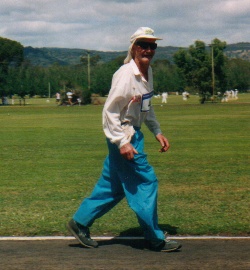 Sixty one year old Cliff Young became a household name in 1983 when he beat all of the starters and won the first Westfield Sydney to Melbourne Ultra Marathon. He wasn't known before the race - but was certainly know after that. Apart from winning the inaugural Westfield Run, Cliff also achieved many other brilliant performances in his ultra career which included several Ultra age records. He was also the "Boy from the Bush" with a larrikin wit and a heart of gold. This endeared him to many people over the years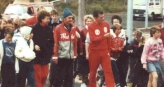 2 Dec - With regards to the "article" in a supposed top rating Women's magazine this week, please could people remember Cliff the runner, Cliff the Bushman, Cliff the Gentleman. He doesnt deserve what is being written.
If you would like to email a tribute about Cliff please do to me at ultraoz@iprimus.com.au. I will make sure that it gets to Cliff's friends and family. I will also post it on this site, so that all can share.
Tributes to Cliff:
Dear all, May Cliff rest in peace. A great athlete and a delightful person. It is so sad that he is no longer with us. He was such a joy to be around.
David Sill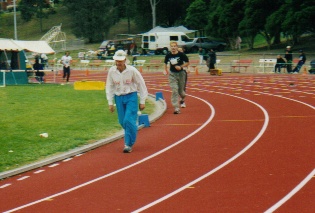 -------------------
Dear Phil,
The sad news from Cliff Young death created very sorry feelings in my soul because another of the greatest Australian ultra-runners (after George Perdon and Brian Smith)is not with us any more. His name will remain immortal as Cliff was an Australian hero and a great figure of modern Australian history, because he inspired millions of people around the world with his acheivements. Please pass my deap sympathy to his relatives and tothe ultra-running community in general. I feel twice sorry, because this loss finds me to run a 3-day charity run in Cyprus and I will be unable to be present at his funeral. Lets wish and pray that his soul will rest in PEACE
sincerely
Yiannis Kouros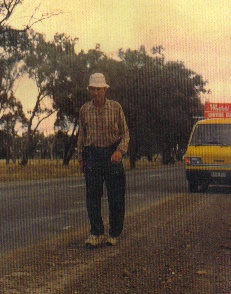 I was saddened to learn of the passing of Mr. Young, this AM. I had never met the man, but was always inspired by his reputation "Down Under" and world wide. To have accomplished what he did certainly did qualify him as a legend and even more so as he did it at a time in life when many have either retired, or have lost their ability to compete at the top level, and he did that. His life and running are truly an inspiration to anyone who looks at a total life, and not at a single achievement.
I am especially honored and saddened, since it does appear that I won the last Colac Cliff Young award while he was still alive. The award, in perpetuity, should continue to serve as a beacon of for those who "give it their best" and each presentation and each person so honored will have on his or her mantle piece a bit of history to honor his life.
Andrew Lovy, D.O.
I am sorry to hear about the passing of Cliff Young. He has been my hero since my first six day 20 years ago and have always envied his talent and toughness. There will never be another Cliff Young.
Jim Skophammer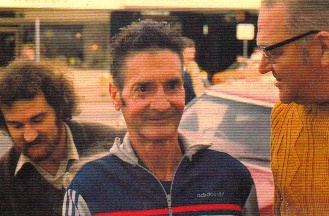 Very sad to hear the news of Cliff (only heard it this morning), i was only thinking of him when driving back through Colac yesterday. Certainly a true Aussie Ultra legend and a great bloke too, remember talking with him a little doing the old "10 K ?? Banana Run" over the Westgate Bridge from Newport to Goschs Paddock, back in the late 80's. If i remember correctly it was around 1990 or so Cliff did the presentations at the Traralgon Marathon after finishing the race.
All the best,
Kelvin
Several weeks ago my kids did a study unit on the story of "The Pumpkin Runner," for whom Mr. Young was the inspiration. We've been meaning to seek out information on Mr. Young via the Internet and didn't do so till today. Well, it seems we just missed him.
Nevertheless, his life reminds us that no image bearer of God is ordinary. Tonight, in fact, our pastor spoke about Genesis 50:20 where Joseph forgives his brothers in recognition of God's sovereign purposes: "You intended to harm me, but God intended it for good to accomplish what is now being done, the saving of many lives."
Our pastor used Joseph's story, in part, to remind us how God's plan and purpose is marvelously complex and cosmic in scale. When we simply seek God's purpose for our lives and remain faithful to Him, we can not only live our lives well, but also serve God's purpose for others.
I know nothing about Mr. Young's faith, but in learning of his story-from the other side of our world-we're reminded of our pastor's words, Joseph's words, and God's words.
Thanks "Cliffy." Our "gumboots off" to you.
Jim Heethuis,
Thanks for simple good humour over the years. Thanks for the courage that you have shown me and to never give up. Thanks for showing me that anything is possible. Your memory will live on.
Phil
Even though it has been expected for quite some time the passing of our great friend CLIFF has (for want of a better word) left me quite devastated. he was such a gentle man, gentleman too, he was always a help to me & it was through lap counting & helping look after Cliff & a few others that got me into the Ultra scene, he was an inspiration & will remain so, he was loved by many (including me) he will be sadly missed by many & forgotten by none, it is I think an end to an era.
I can still see you Cliff coming through Doncaster in the early hours, what a great night that was, what an achievement!!
May you rest in peace CLIFF my friend.
Sandy Kerr
I was grieved to hear of the death of Cliff Young,a great bloke and Aussie legend for so many years.Most know of him as a great ultra runner,but Cliff could knock out a pretty fast half marathon when inclined.I have fond memories of that day,18th Sept. 1983,when he graced the Cooranbong(NSW) half marathon with his presence.He raced in his famous long trousers and won his M60 age category in a time of 1.26.59. and then proceeded to assist in prize giving,multiple conversations,photo shoots etc with other younger runners and generally making it a great day for all present.A wonderful bloke who will be sadly missed.
Jim Beisty
As Records Officer for the Australian Ultra Runners Association a position I took up two years ago i did not realise then what a great athlete our cliffy was after looking through nearly twenty years of Ultra Magazines not only did I realise what a great Athlete he was, but a great Charcter,he was generous with his time to other Ultra Athletes but apart from his Westfield run his time when he won the Australian 24 Hour Championship at Adelaide in the 1980s to my mind was one of his great runs,rest in peace Cliffy you have deserved it,we on earth are glad that you passed our way.

Fred Brooks
Cliff Young is not more now with us. It is like going away the Great Grand of Ultrarunners. The biggest tree is fallen but the seeds sprouted from it all over the world, only his physical body is not with us but he will always remain with us.
I first encountered with him some 6-7 years ago in a very simple book on Running having a last brief chapter on Ultrarunning. There I found two greatest (yes to me they were and are greatest) legends Cliff & Yiannis. I was stunned by Cliffy's running ability. I know his impact on me and a share in becoming me an ultrarunner (only ultrarunner in India) is also goes to him.
Wish his soul remain in Peace.
- Arun Kumar Bhardwaj
Phil
I learnt of Cliffy death from the TV & during the tribute to the great man a clip of him was shown completing a Westfield run. The person beside him raising Ciffy's arm in victory was Bryan Smith.
As my wife Betty said - Two great gentle in all facets, now can keep each other company running forever.
May they both rest in peace yet watch over us running nuts for when I look into the skies complaining of my hardships struggling through the kilometres I am sure the feel of the wind at my back will not be the wind but you giving me a slight push. RIP
Geoff Williams
Cliffy

To all the special times we shared in the early hours of the morning when

there was just the two of us either trackside or in the massage tent. No one can ever know what passed between us or share in the jokes or hear the laughing.

You were the first one to believe that my approach to care of the ultra

athlete was the right one to take, and your encouragement down through the years since we first met at the Colac six day run when I was a massage student to research on better ways to keep the athlete going has paid off.

Your letters always had that positive message, and they always came at a

time when I was ready to give up on everything. I still have the vision when I was doing the lap counting early in the morning at the 'Cliffies Dream' and you were disappearing into the darkness for another lap of the rough track.

There was just the two of us out there, I watched the lonely figure out

there, and could see what made you a what you were. I had an insight into what it would be like to be like you. To quote another ultra runner Kevin Mansell

"I finally found my hero in life and it was me"

Thanks to you on that night I found that outWhile not being an Ultra competitor, I am proud to say I am an Ultra person,as much a part of the Ultra family as the athletes are.It is as part of the ultra family I grieve at your passing, and at the same

time feel proud I was part of the same family as you.

Michael Gillan Ultra Masseur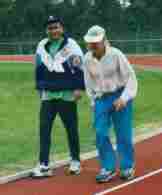 Web site created by Phil Essam. For more information phone Phil on 0407830263