Well the second release of my book at the Australian 6-day race was very successful with all 50 books selling, providing a sizeable injection of funds into Race Funds. If there any other Ultra races in Australia that want to do limited print offs of my book at their race and are confidant of selling them at their race. Go for it. Just let me know first, make sure you can get a printer who will print the book for free or very cheaply and it's money for your race!
Over the next few years I will be compiling the history of the Australian 6-Day race. It is the longest multi-day track race in the world and it's history is expanding year by year. If anyone has any photos, stories, press cuttings that they would like to share, please contact me on ultraoz@iprimus.com.au or 0407830263. I am also looking for someone from Colac that would be interested in helping with the project.
"Iíve finally found my heroÖ" is taken from Kevin Mansellís quote in 1987 when he crossed the Finishing Line for the first time . Kevin definitely typified the fighting spirit of every Westfield Runner that attempted the race between 1983 to 1991. Thanks Kev.
Kevin Mansell - road pit stop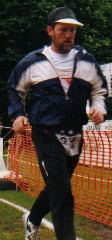 This has been copied and pasted from acrobat. So apologies for the spacing probs. If you would like a full copy of the book, please email me at ultraoz@iprimus.com.au for some exciting news

Chapter Twelve

Humour , Tr a g ed y and Courage Ė Runner s í Storie s

Victorian runner, J ohn Breit was to amuse himself in the 1990 Westfield Run by

collecting hubcaps. Or should I say he got his crew collecting the hubcaps. John would be

running down the road, spot a hubcap and point. The designated runner would alight from

the rear vehicle, grab the hubcap, take it to John for his inspection and then take it to the

rear vehicle. At the next pit stop, the new collection piece would be attached to the

collection at the rear of one of the vehicles. By Melbourne at least twenty hubcaps had been

collected, which was making quite a noise rattling down the road. One of the officials even

came and claimed two of the hubcaps at the end of the race.

Running Ronnie

Our Ronnie is a runner, as slow as slow can be,

He is a Marathoner, all of us can see.

He runs along the highways with cars all wizzing by,

The only regular watchers are birdies from the sky.

His wife and 3 young children are sitting there at home

While Ronnie Ronnieís running his lips covered in foam.

Where oh where is Ronnie? His lovely wife does ask,

Ron is on the highway. Sticking to his task.

His legs they pound the pavement his head raised to the sky,

His sandshoes pounding onwards he wishes he could fly.

His team of nine mixed humans are bending to their tasks,

Their job is getting promptly whatever Ronnie asks.

Mal rants, Mal raves Mal orders them about,

His number one priority is getting Ronnie out.

Simon is a wonder as wait on Ron he does,

Ron just keeps on running wonít let the others pass.

Rebecca, Rebecca the masseur so sweet.

We all do believe this is her very first beat.

Reggie & Hitch regular drivers are they,

They drive for young Ronnie but without any pay.

Margret, Malís fiancee is here to work too,

Sheíll cook handle money and with Mal she will coo.

Our Sam, Ronís spaghetti will embellish and cook

Boy, when our Ron eats the public will look,

For Ron will run onwards by hook or by crook.

Shakie oh shakie he is burning bright,

Making our motors run all through the night.

Charlie our writer is a fatherly sight,

His number one illness is snoring all night.

When all get together we have a riotous time,

I wish I could think of a word that does rhyme.

Now back to the track all of us must go,

Somewhere our Ronnie is running in snow.

His teeth they do chatter his hair it is stiff,

We know all he needs is a Mars Bar to sniff.

So out go Rebecca and young Simon too,

While Mal our commander is sniffing with flu.

Bravely our crew members all struggle on,

Following so closely behind our young Ron.

As foot weary, arm weary lips so dried out,

He has so much trouble trying to pout.

In spite of all this, finish he does,

His loving young wifeís eyes are still filled with stars.

Yes Ann at the finish she knows tha the tried

And waits there so bravely to give him her prize.

His children are there they are cheering like mad,

Their voices are yelling, good on ya Dad!

This poem was written by crew member and lifelong friend to Westfield Runner, Ron

Hill, Charlie Py e. Charlie is also a good friend and constant crew member to Colac

legend, Drew Kettle when he goes on his treks around Australia.

English runner, Patrick Macke was going through Canberra when he had an urge to go to

the toilet. One of his crew spotted a Chinese Restaurant up the road and so he sprinted up

with another of the crew to try and arrange for Patrick to use their facilities. The two crew

members tried for five to ten minutes to get through to the Waiter behind the counter what

they wanted to do. The waiter could not speak a word of English. They were beginning to

think that it was a really genuine Restaurant until they realised that they were at the front

Entrance to the Chinese embassy. It is not known if Patrick got to use their facilities.

Web site created by Phil Essam. For more information phone Phil on 0407830263