I hope you enjoy the site. It will contain the Virtual Race and Links to my favourite Ultra Marathon web sites, Marathons, Race Walking, Running, Sports Psychology, Motivation, Tibet and Cancer stories.
I also
plan to have an extensive photo library of Ultra runners/walkers. If you have any photos, that you would like to contribute please contact me.
Victorian 24hr Championship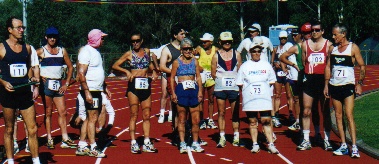 I will also be having a quotes page and a page that will contain excerpts from my Westfield Book. This will also contain information about the new book that I'm writing about the history of the Australian 6-day race. Haven't finished yet – There will also be an Extras page, Phil's Column, my Old Event stories and My Training Page
.
Any suggestions for content. Please email them to me at ultraoz@iprimus.com.au
Have fun and come back.
Web site created by Phil Essam. For more information phone Phil on 0407830263
L3xicon.com - a web thesaurus and lexicon listing Ultraoz.50megs.com under ultra running, australian ultra photos and australian ultra history